What if you could start earning money
within days with Mobile Apps !
That would be pretty cool right ?
You are tired of failing online. You want to do something different, and embrace the latest digital trends and technology to take your online business to the next level - you need to actually start earning money!
But you are not a technical guru and don't understand any of the technobabble that coders and developers use. In fact you find it downright intimidating.
You have discovered that there are many visual mobile app builders available, but their packages are confusing with a lot of fine print. You are unsure what the really important features are and which package is actually the right one to take.
And if you did settle on a package, you are unsure if you would actually be able to succeed in building the apps. The available training seems very limited and leaves you feeling anxious.
Lastly - these platforms do not teach you how to actually make money with Mobile Apps! Even if you could build apps, you would never make money if you did not have the business acumen required to apply yourself in a profitable manner.
What you need is a Y.G.I.A (you-get-it-all) solution where you're able to work alongside a professional Mobile App designer who himself makes a living building mobile apps with no coding skills! Someone who can show you exactly how to start earning with Mobile Apps, faster than you thought possible.
IMAGINE having the following:
Immediate and lifelong access to the the ULTIMATE, ALL IN ONE MOBI APP BUILDER PACKAGE
UNLIMITED EVERYTHING - access to TWO Mobi App Builder Platforms, each with unique features
More than 100 lessons - Multimedia learning via Video, Webinars, Skype, Mail & Text
Business coaching and lessons as to how you actually make money with Mobile Apps
Optional live seminar workshops where applicable (T&C's)
Build Unlimited Apps For Android, iOS, Tablets and Kindle Fire!
Don't miss this ALL-IN-1 ONCE IN A LIFETIME DEAL! Mobi Apps is the future in online AND offline business! We will show you how to set yourself up as a Profitable freelancer creating and MAKING MONEY from mobi apps.
Build Mobi Apps within MINUTES - no coding knowledge required.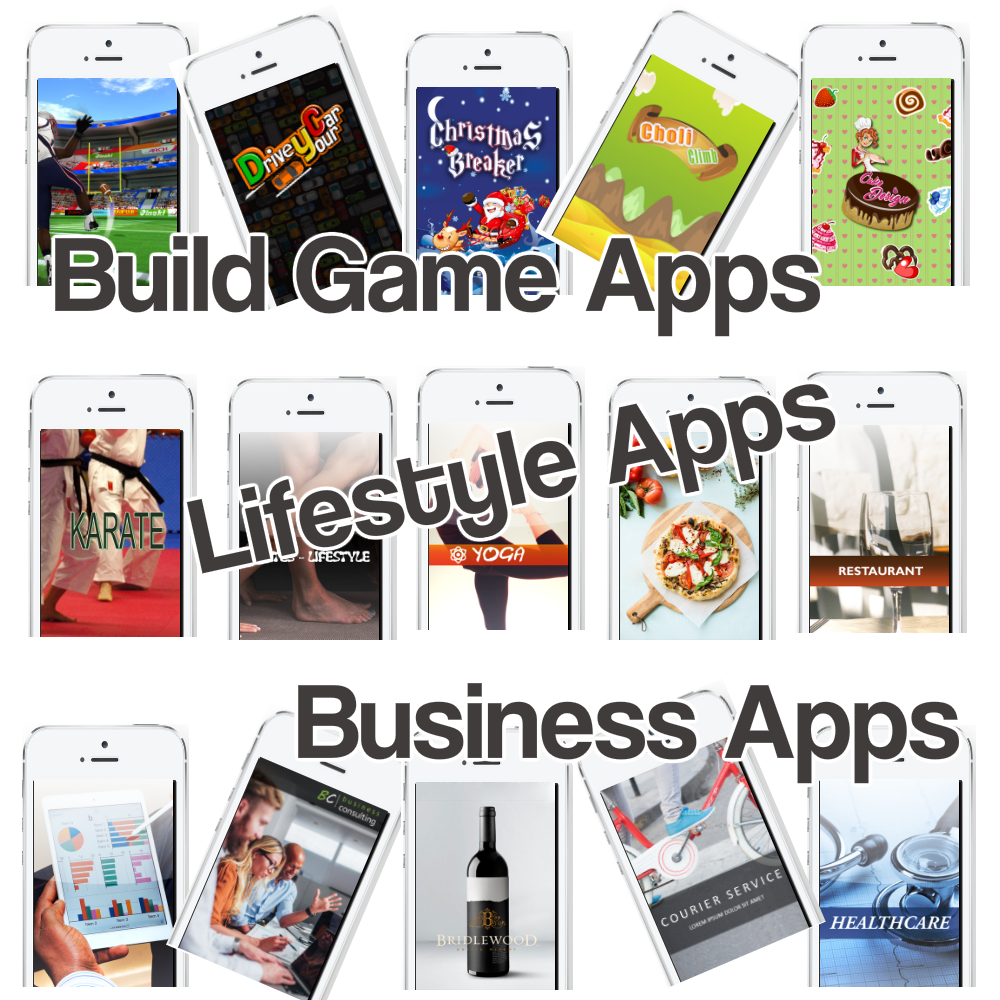 Would you like to make money from building Mobile app GAMES?
Would you like to create Mobile Apps that promote and GROWTH HACK a business?
Would you like to start a career in Mobile app building?
Learn how to use Mobile Apps to MAKE MONEY as standalone apps or in the sales funnel of any business!
Apps are the future for everyone, if you want to reach people on their phones, this is how it is done.
Coding is not required to build Mobile Apps successfully. WE SUPPLY YOU WITH TWO DRAG-AND-DROP Visual Builder Platforms. We will walk you through the app building process at your pace. You will discover that app building with our tools is like putting together a model. The equipment is provided; all you need to do is put it together.
That being said, one of the two visual builders ALLOWS you to perform more advanced editing of HTML and CSS should you have the skillset. As part of our wide range of video tutorials, we will also teach you some basics in terms of HTML and CSS Editing so that you can get the most out of your App Building career.
What do you get with this PREMIUM Package?
A full series of training videos - value $797
Advanced training using HTML and CSS editing in 1.0 builder
Training updated regularly
TWO (2) visual builder platform software accounts - unlimited for life !!!!
Visual builder 1.0 - unlimited for life !!!! With FULL Publishing to Playstore, iTunes and Amazon. Value $797
Visual builder 2.0 - unlimited for life - JUST DRAG AND DROP. With FULL Publishing to Playstore, iTunes and Amazon. Value $797
More than 400 TEMPLATES including more than 150 PREMIUM templates!
More than 220 templates!
The most feature rich visual builder online - more than 145 features!
Ad Hoc Webinars
A personal coaching session online via Skype, Zoom or similar.
Lifetime support - value Priceless!
BONUS #1:
Amazing graphic design for beginners. Graphics course to design your Mobi App and other graphics.
BONUS #2:
Button Creator Software to create customized buttons for your Mobi apps.
BONUS #3:
20,000 Images to use in your Mobi App graphics
COURSE VALUE = $ 2,391
For a limited time, you get more than 90% discount on the course value!!!